We Welcome Guests
Calvary welcomes everyone who is interested in learning what the Bible teaches, and everyone who is troubled by sin and longs to hear words of comfort and assurance from God.
Everyone is welcome to sit in on our worship services each week, listen to what our pastor teaches, and get an impression on how friendly we are - we do try to be friendly, but we know that we are not perfect. You don't have to be a member to enjoy any refreshments we might have out.
We realize that our regular worship service is not designed for people who have no background in the Bible. Many of our members grew up with learning stories from the Bible and, at times, we make reference to these stories and characters in these stories without explaining the details. But we still try to make our worship services simple enough that anyone can learn something from them.
In addition to our worship services we have other opportunities for learning about God and the Bible. For those who are new to Christianity we can arrange a basic "Bible Information Class" (which we ofter refer to as a "BIC" class). These are offered free of charge to anyone interested in learning. Only after we have explained the basics of our teachings in such a BIC class do we ask someone if he or she would like to become a member of our church.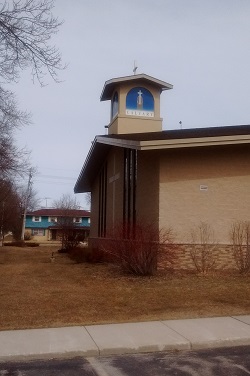 For those who already have a basic knowledge of the Bible and our church and who want to learn more, we have an adult Bible study hour every Sunday after our worship service. There we cover a variety of topics from books of the Bible, events in the Bible, what the Bible says of various topics, and the like. We also have some small group Bible study opportunities during the week.
We welcome not only adults, but also children - in our Sunday School on Sunday mornings after worship from September through May, and at our annual Vacation Bible School held on a day during the summer. We also have a group of teens who learn about the Bible, prepare for service in the church, and plan various recreational activities.
If you need to get directions to our church. Please use the following link:
https://www.google.com/maps
.
Enter our address: 2132 N 27th Street Sheboygan, WI 53081
Please see the We Worship tab for more information on what to expect when coming to our church.